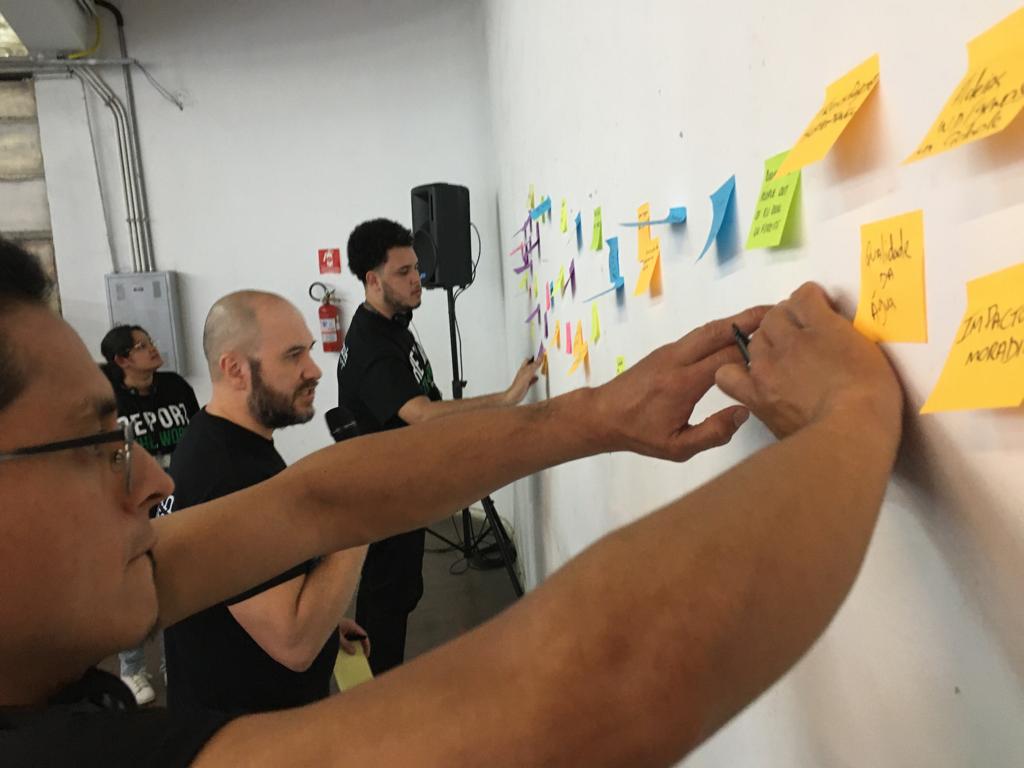 This was a busy year for Report for the World. In 2022, we expanded to new countries, met new corps members and brought good journalism to communities across the globe. To celebrate, we're revisiting five of our favorite moments.
Welcoming our first Global Director
Preethi Nallu joined Report for the World this July as our first-ever Global Director. Nallu, an award-winning international journalist, documentary film-maker and press freedom advocate, hit the ground running. She oversaw two major expansions to our program, spread the word about our mission through outlets like Poynter and LatAm Journalism Review and more.
Reaching global audiences
Report for the World hosted a session at the International Press Institute's World Congress this September at Columbia University. Moderated by Global Director Preethi Nallu, the session was a round-table discussion between locally-focused newsrooms from around the world. Report for America newsrooms Sahan Journal and The Haitian Times took part in the discussion, speaking about serving immigrant communities in the U.S.
In November, Nallu spoke with IPI and its Local News Network in Vienna. Some of Report for the World's partner newsrooms — Conexion Migrante, TheCable, The News Minute, The Citizen Bulletin, InfoAmazonia and Quinto Elemento Lab — joined the conversation to talk about building community through local reporting.
Expanding our global partnerships
At the end of the summer, we welcomed new partner newsrooms in Peru, Mexico, Zimbabwe, Hungary and Ukraine. We also added more partner newsrooms in Nigeria, India and Brazil. Overall, we now work with 17 newsrooms in eight countries across five continents.
This fall, we welcomed 15 new corps members to Report for the World, effectively doubling the size of our corps. Our corps covers critical issues like climate change, migration, Indigenous rights and more.
Our first in-person gathering
This December, Report for the World hosted its first in-person gathering in São Paulo, Brazil. Corps members from Mexico, Peru and Brazil came together for a two-day workshop to learn more about environmental reporting. Corps members were then able to pitch cross-border story ideas to global outlets, with three chosen stories receiving grant funding.
The gathering was also a great time to create connections for corps members, newsrooms and Report for the World staff.
Continued coverage of critical issues
Thanks to continued support from donors, our corps members were able to cover critical issues across the globe. From the environmental impacts of the war in Ukraine, the lives of female migrants in Mexico, continued labor action from academics in Nigeria, Indigenous land protectors in Brazil and more, our corps members have been telling the stories that matter to their communities.
In 2023, we hope to bring critical, on-the-ground reporting to even more communities in more countries around the world. But none of this is possible without support from people like you who believe in the power of smart, fearless storytelling to strengthen communities. Before we ring in the New Year, consider donating to our end-of-year giving campaign. Between now and December 31, all gifts to Report for the World will be matched dollar-for-dollar by our challenge donor.